Adding Sides to a Role
Sides are provided by Embershot - click here to learn more. Embershot and Cast It passwords should be the same. If they are not, please do a "forgot" password in Embershot to reset the password.
__
NOTE: Sides downloaded from an Open Call Page or Project URL are automatically watermarked with the recipient's email address


Watermark on a file: CD's can adjust the watermarks directly in their Embershot account
Default watermark settings: CD's can also adjust their default settings so that they will change in Cast It moving forward
Additional help can be found here
STEPS:
1. Login to your Cast It Systems profile


2. Click into your project so you are viewing the list of roles
3. On the right side of the page, select the three vertical dots that correspond with the role you want to upload sides for



4. Select the "Upload Sides" option from the menu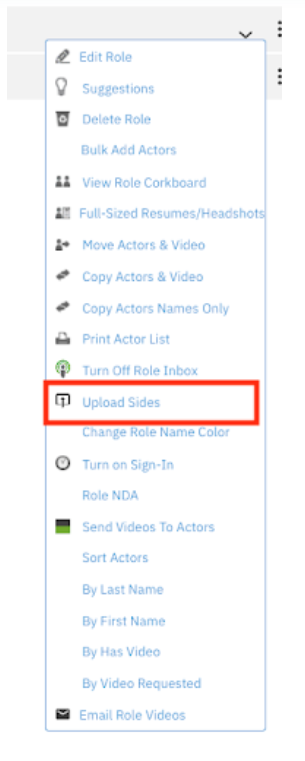 5. Select the blue "select file to upload" button in the "Upload Sides" pop-up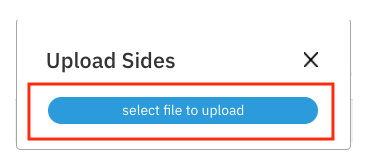 6. Find and select the sides file from your finder - THESE MUST BE IN PDF FORM/FILE TYPE


7. Once uploaded, you should see the pop-up now state "Upload complete!"
You have now successfully added sides to that particular role. You can repeat the process for any other roles you have in the project.


8. To view or change your sides, select the three dots that correspond with the role you want to upload sides for
9. Select the "Sides" option, and then "View Sides" or "Change Sides"